---
It will be our great pleasure to honor Barbara L. Glaser with the Adirondack Council's Conservationist of the Year award at our virtual Forever Wild Day and Members' Meeting on Friday, July 9, 2021. Give a gift in support of Adirondack conservation and celebrate Barbara L. Glaser and the Clarence Petty Intern Fund. Receive a FREE "Recreate Responsibly" bandana for your gift of $75 or more!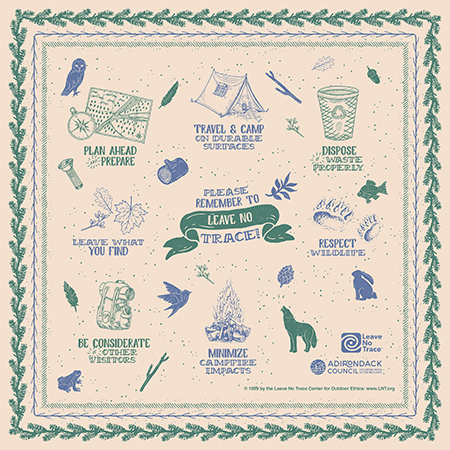 "Recreate Responsibly" Bandana
Seven Principles of Leave No Trace
100% cotton

Measures 21"x21"

Made in the USA
2021 CONSERVATIONIST OF THE YEAR - BARBARA L. GLASER
Barbara Linell Glaser Ed.D. began her work with the Adirondack Council when she joined the Board of Directors at age 25. She served on the board for 25 years and has always believed in recruiting and supporting the next generation of environmental leaders.  
In honor of her friend, mentor, and fellow board member Clarence Petty, Barbara established the Clarence Petty Internship program at the Adirondack Council in 2003. Clarence Petty was a native of the Adirondacks who spent his lifetime working to ensure good stewardship of the state's public lands and sound decision-making about private land use in the Adirondack Park. He inspired many young conservationists, such as Barbara.
At the age of 27 she became the co-founding director of Great Camp Sagamore and worked to save both Great Camp Sagamore and its sister Camp Uncas, both now National Historic Landmark sites. In Saratoga Springs she founded the Open Space Project 30 years ago and championed the City's Open Space plan, advocating for trails, parks and preserves. 
Barbara's company, Linell Lands Inc. acquires and renovates historic properties and has won awards for the adaptive reuse of historic buildings. She is president of the Nordlys Foundation which funds conservation, education and community development projects. She serves as the secretary of the Adirondack Land Trust, as a founding board member of Pitney Meadows Community Farm, and on the Saratoga/Capital Region Parks Commission.
Barbara Glaser and Clarence Petty